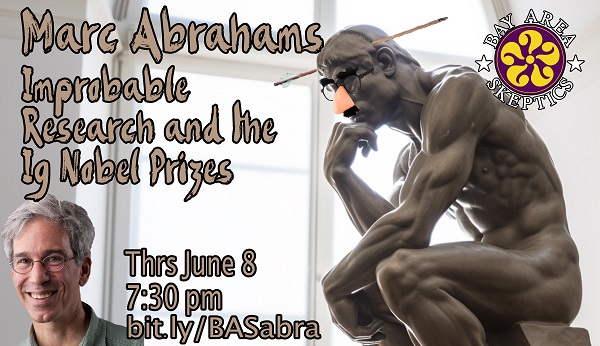 WHAT: Improbable Research and the Ig Nobel Prizes
The Ig Nobel Prizes honor achievements that make people LAUGH, then THINK. Ten new prizes have been awarded every year since 1991. The magazine Annals of Improbable Research organizes the Ig Nobel ceremony, which is held at Harvard University.
WHO: Marc Abrahams is the co-founder and editor of the magazine Annals of Improbable Research (AIR), and the author of This is Improbable, The Ig Nobel Prizes and other books. He edits and writes much of the website and blog www.improbable.com and the monthly newsletter mini-AIR. He also writes the weekly "Feedback" column in New Scientist. Before all of this, he was editor of the Journal of Improbable Results, and before THAT, a software engineer and before THAT, an applied mathematics graduate of Harvard, where he was a year behind Bill Gates. Unlike Gates, he finished college, although his software company was somewhat less successful.
WHEN: Thursday 8 June @ 7:30PM Pacific (0230 UTC)
WHERE: Online. Click HERE to join.

Previous SkepTalks:
| | | |
| --- | --- | --- |
| 11 May | 2023 | ¿Extraterrestrial Life? – Alex Filippenko |
| 13 April | 2023 | ¿Did paleo people actually eat Paleo? – Briana Pobiner |
| 9 Mar | 2023 | Netflix' Ancient Apocalypse: Confronting Mainstream Pseudoarchaeology – John Hoopes |
| 9 Feb | 2023 | The Cultural Logic of Vaccine Refusal – Jennifer Reich |
| 12 Jan | 2023 | Racism, Not Race: Answers to Questions Even a Skeptic Might Ask – Joseph Graves |
| 8 Dec | 2022 | Gods and Robots: Imagining Artificial Life in Antiquity – Adrienne Mayor |
| 10 Nov | 2022 | Science Education in an Age of Misinformation – Jonathan Osborne |
| 13 Oct | 2022 | Science vs… History? – Wendy Zuckerman & Sebastion Major |
| 8 Sep | 2022 | How to Effectively Push Back Against Misinformation – Jonathan Jarry |
| 11 Aug | 2022 | What Does Evidence Do – Jenny Rice |
| 9 Jun | 2022 | How to Talk to a Science Denier – Lee McIntyre |
| 12 May | 2022 | Superstitions, Aliens, and Conspiracies: The Frontlines of Astronomy Outreach – Mike Simmons |
| 14 Apr | 2022 | Confidence Men: How 2 Prisoners Made History's Most Remarkable Escape – Margalit Fox |
| 10 Mar | 2022 | The Reality of Reality TV – Yau-Man Chan |
| 10 Feb | 2022 | Who's Making All Those Scam Calls – Yudhijit Bhattacharjee |
| 13 Jan | 2022 | Weirdness!: What Fake Science & the Paranormal Tell Us about the Nature of Science – Taner Edis |
| 9 Dec | 2021 | Dangers of the "Lost Civilization" Trope – A.J. White |
| 11 Nov | 2021 | Machineries of Doubt: Climate, Cigarettes & Confusion – John Mashey |
| 9 Sep | 2021 | The Great Australian Psychic Prediction Project – Richard Saunders |
| 12 Aug | 2021 | What To Do About Misinformation (in Four Dimensions) – John Cook |
| 8 July | 2021 | Tilting at Strawmen & Other Tricks of Climate Denial Enablers – Mark Boslough |
| 10 Jun | 2021 | The Truth Behind False Memories – Jill Yamashita |
| 13 May | 2021 | Vaccine hesitancy in the era of COVID – Tara C. Smith |
| 8 Apr | 2021 | Why storytelling is vital to science communication – Sara ElShafie |
| 11 Mar | 2021 | Haunted Humanity: The Fringe Is Not Fringe, and That's a Big Deal – Daniel Loxton |
| 11 Feb | 2021 | From Junk to Genes: The birth of new miRNA genes in the human genome – Nathan Lents |
| 14 Jan | 2021 | The Continuing Relevance of America's Eugenic Legacy – Paul Lombardo |
| 10 Dec | 2020 | Deepfakes, GANs and Visual Misinformation – Nick Dufour |
| 12 Nov | 2020 | The Debate about Dark Matter: Is the Matter Settled? – Don Lincoln |
| 8 Oct | 2020 | Facilitated Communication: Holding on to (False) Hope – Janyce Boynton |
| 10 Sep | 2020 | Mad Myths: The Case for Using Persuasion to Promote Critical Thinking – Jay Diamond |
| 13 Feb | 2020 | Big Data: What it is, how it's used, where it's headed – Mike Olson |
| 12 Dec | 2019 | Are you sure that sippy-cup is safe? – Layla Katiraee |
| 7 Nov | 2019 | Why Do People Reject Good Science? – Eugenie Scott |
| 10 Oct | 2019 | Shit Students Say: Chem trails, hollow earths, and other strange ideas – Steven Newton |
| 12 Sep | 2019 | Successful Skepticism: Creating Lasting Community – Tucker Phelps |
| 9 May | 2019 | The Bitter M&Ms of Climate Change: Misconceptions and Misinformation – Brad Hoge |
| 11 Apr | 2019 | The Year in Anti-Science-Education Legislation – Glenn Branch |
| 14 Mar | 2019 | Australia's Psychic Detectives and Psychic "Predictions" – Richard Saunders |
| 14 Feb | 2019 | What Would Darwin Say to Today's Creationists? – Eugenie Scott |
| 10 Jan | 2019 | Common Misconceptions About CRISPR Genome Editing – Kevin Doxzen |
| 13 Dec | 2018 | BAS BAH Fest |
| 8 Nov | 2018 | A Skeptic's Guide to Planet Hunting – Josh Lofy |
| 11 Oct | 2018 | Beyond a Candle in the Dark – Mick West |
| 13 Sep | 2018 | When a Biology Meets a Biology – David Almandsmith |
| 10 May | 2018 | Common Misconceptions in Anthropology – Julie Hui |
| 12 Apr | 2018 | Skepardy! — Bill Patterson |
| 8 Mar | 2018 | A Quirky Colloquium Quashing Quantum Quackery — Miriam Diamond |
| 8 Feb | 2018 | The Human Drive to Explain — Tania Lombrozo |
| 14 Jan | 2018 | Neuroscience and the Great Questions — Ransom Stephens |
| 14 Dec | 2017 | Top Ten Myths of Homelessness — Carrie Sager |
| 9 Nov | 2017 | Myths of Mass Extinctions — Kevin Padian |
| 12 Oct | 2017 | Hurricanes and Heat Waves: Is This Climate Change? — Brad Hoge |
| 11 May | 2017 | Beyond the Choir – Guerrilla Skepticism on Wikipedia — Susan Gerbic |
| 13 Apr | 2017 | An Invisible Plague: the Growing Threat of Tuberculosis — Lauren Popov |
| 9 Feb | 2017 | Are Saturated Fats Bad for You? Separating Fat from Fiction — Kent McDonald |
| 12 Jan | 2017 | Harry Houdini vs. Psychics & Mediums — Mark Tarses |
| 29 Dec | 2016 | Too Good to be True? – Richard Saunders |
| 10 Nov | 2016 | Myths of Astronomy — Thomas Targett |
| 10 Sep | 2015 | Angle Trisection: A problem many tried to solve — Paul Stepahin |
| 9 Apr | 2015 | Herding Cats and Teaching Science — Dan Pemberton |
| 12 Feb | 2015 | Quantum Pseudoscience and the Nature of Mind — Russel Willcox |
| 8 Jan | 2015 | The Manson Family, Cults, and the Psychology of Commitment – Dr. Patrick O'Reilly |
| 10 Oct | 2012 | Writing About Vaccines When Evidence Doesn't Matter — Liza Gross |
| 12 Sep | 2012 | Gay Conversion Therapy: You Make Me Sick — Sheldon Helms |
| 8 Aug | 2012 | Documentary & Skype — "In God We Teach" |
| 11 Apr | 2012 | A Skeptical View of Climate Change Skeptics — Mark McCaffrey |
| 14 Nov | 2011 | Climate Change: From the Biotic to the Exotic — Minda Berbeco |
| 12 Oct | 2011 | A Unicorn in Your Tank: Magic Tablets That Won't Improve Gas Mileage — Yau-Man Chan |
| 14 Sep | 2011 | Catastrophes! — Don Prothero |