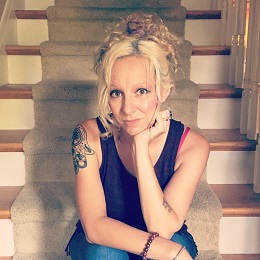 WHAT: What Does Evidence Do?
When it comes to evaluating claims, skeptics tend to adopt the well-known Sagan Standard: "Extraordinary claims require extraordinary evidence." But what, exactly, is evidence? After all, conspiracy theorists and pseudoscientists often present a great deal of "evidence" for their claims. In fact, many conspiracy theorists themselves repeat Carl Sagan's standard as a motto, believing that they do indeed possess extraordinary evidence. In this talk, I discuss different ways that the concept of evidence is used rhetorically in conspiracy claims. We will take a deep dive into what "evidence" means–and the work it does–for conspiracy theorists, as well as why "bad evidence" is often so persuasive.
WHO: Jenny Rice is Professor of Writing, Rhetoric, and Digital Studies at the University of Kentucky. She is the author of Awful Archives: Conspiracy Theory, Rhetoric, and Acts of Evidence. Her research focuses on public debates about "extraordinary claims," including conspiracy theories, pseudoscience, and the paranormal.
WHEN: Thursday 11 August 7:30PM
Where:  Online. Click HERE to attend.

Previous SkepTalks:
| | | |
| --- | --- | --- |
| 9 June | 2022 | How to Talk to a Science Denier – Lee McIntyre |
| 12 May | 2022 | Superstitions, Aliens, and Conspiracies: The Frontlines of Astronomy Outreach – Mike Simmons |
| 14 Apr | 2022 | Confidence Men: How 2 Prisoners Made History's Most Remarkable Escape – Margalit Fox |
| 10 Mar | 2022 | The Reality of Reality TV – Yau-Man Chan |
| 10 Feb | 2022 | Who's Making All Those Scam Calls – Yudhijit Bhattacharjee |
| 13 Jan | 2022 | Weirdness!: What Fake Science & the Paranormal Tell Us about the Nature of Science – Taner Edis |
| 9 Dec | 2021 | Dangers of the "Lost Civilization" Trope – A.J. White |
| 11 Nov | 2021 | Machineries of Doubt: Climate, Cigarettes & Confusion – John Mashey |
| 9 Sep | 2021 | The Great Australian Psychic Prediction Project – Richard Saunders |
| 12 Aug | 2021 | What To Do About Misinformation (in Four Dimensions) – John Cook |
| 8 July | 2021 | Tilting at Strawmen & Other Tricks of Climate Denial Enablers – Mark Boslough |
| 10 Jun | 2021 | The Truth Behind False Memories – Jill Yamashita |
| 13 May | 2021 | Vaccine hesitancy in the era of COVID – Tara C. Smith |
| 8 Apr | 2021 | Why storytelling is vital to science communication – Sara ElShafie |
| 11 Mar | 2021 | Haunted Humanity: The Fringe Is Not Fringe, and That's a Big Deal – Daniel Loxton |
| 11 Feb | 2021 | From Junk to Genes: The birth of new miRNA genes in the human genome – Nathan Lents |
| 14 Jan | 2021 | The Continuing Relevance of America's Eugenic Legacy – Paul Lombardo |
| 10 Dec | 2020 | Deepfakes, GANs and Visual Misinformation – Nick Dufour |
| 12 Nov | 2020 | The Debate about Dark Matter: Is the Matter Settled? – Don Lincoln |
| 8 Oct | 2020 | Facilitated Communication: Holding on to (False) Hope – Janyce Boynton |
| 10 Sep | 2020 | Mad Myths: The Case for Using Persuasion to Promote Critical Thinking – Jay Diamond |
| 13 Feb | 2020 | Big Data: What it is, how it's used, where it's headed – Mike Olson |
| 12 Dec | 2019 | Are you sure that sippy-cup is safe? – Layla Katiraee |
| 7 Nov | 2019 | Why Do People Reject Good Science? – Eugenie Scott |
| 10 Oct | 2019 | Shit Students Say: Chem trails, hollow earths, and other strange ideas – Steven Newton |
| 12 Sep | 2019 | Successful Skepticism: Creating Lasting Community – Tucker Phelps |
| 9 May | 2019 | The Bitter M&Ms of Climate Change: Misconceptions and Misinformation – Brad Hoge |
| 11 Apr | 2019 | The Year in Anti-Science-Education Legislation – Glenn Branch |
| 14 Mar | 2019 | Australia's Psychic Detectives and Psychic "Predictions" – Richard Saunders |
| 14 Feb | 2019 | What Would Darwin Say to Today's Creationists? – Eugenie Scott |
| 10 Jan | 2019 | Common Misconceptions About CRISPR Genome Editing – Kevin Doxzen |
| 13 Dec | 2018 | BAS BAH Fest |
| 8 Nov | 2018 | A Skeptic's Guide to Planet Hunting – Josh Lofy |
| 11 Oct | 2018 | Beyond a Candle in the Dark – Mick West |
| 13 Sep | 2018 | When a Biology Meets a Biology – David Almandsmith |
| 10 May | 2018 | Common Misconceptions in Anthropology – Julie Hui |
| 12 Apr | 2018 | Skepardy! — Bill Patterson |
| 8 Mar | 2018 | A Quirky Colloquium Quashing Quantum Quackery — Miriam Diamond |
| 8 Feb | 2018 | The Human Drive to Explain — Tania Lombrozo |
| 14 Jan | 2018 | Neuroscience and the Great Questions — Ransom Stephens |
| 14 Dec | 2017 | Top Ten Myths of Homelessness — Carrie Sager |
| 9 Nov | 2017 | Myths of Mass Extinctions — Kevin Padian |
| 12 Oct | 2017 | Hurricanes and Heat Waves: Is This Climate Change? — Brad Hoge |
| 11 May | 2017 | Beyond the Choir – Guerrilla Skepticism on Wikipedia — Susan Gerbic |
| 13 Apr | 2017 | An Invisible Plague: the Growing Threat of Tuberculosis — Lauren Popov |
| 9 Feb | 2017 | Are Saturated Fats Bad for You? Separating Fat from Fiction — Kent McDonald |
| 12 Jan | 2017 | Harry Houdini vs. Psychics & Mediums — Mark Tarses |
| 29 Dec | 2016 | Too Good to be True? – Richard Saunders |
| 10 Nov | 2016 | Myths of Astronomy — Thomas Targett |
| 10 Sep | 2015 | Angle Trisection: A problem many tried to solve — Paul Stepahin |
| 9 Apr | 2015 | Herding Cats and Teaching Science — Dan Pemberton |
| 12 Feb | 2015 | Quantum Pseudoscience and the Nature of Mind — Russel Willcox |
| 8 Jan | 2015 | The Manson Family, Cults, and the Psychology of Commitment – Dr. Patrick O'Reilly |
| 10 Oct | 2012 | Writing About Vaccines When Evidence Doesn't Matter — Liza Gross |
| 12 Sep | 2012 | Gay Conversion Therapy: You Make Me Sick — Sheldon Helms |
| 8 Aug | 2012 | Documentary & Skype — "In God We Teach" |
| 11 Apr | 2012 | A Skeptical View of Climate Change Skeptics — Mark McCaffrey |
| 14 Nov | 2011 | Climate Change: From the Biotic to the Exotic — Minda Berbeco |
| 12 Oct | 2011 | A Unicorn in Your Tank: Magic Tablets That Won't Improve Gas Mileage — Yau-Man Chan |
| 14 Sep | 2011 | Catastrophes! — Don Prothero |