As some of you may recall, I recently hosted James Randi at Ohlone College, where he delivered a wonderfully entertaining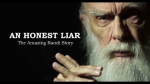 An Honest Liartalk on "Prophecy, Divination, and Faith Healing" to an adoring overflow crowd.
That weekend, I was lucky to also spend time with a film crew who were making a documentary about Randi's life entitled "An Honest Liar: The Amazing Randi Story." Heading up this endeavor are Tyler Measom and Justin Weinstein, both talented and accomplished documentary filmmakers. Since that time, Tyler and Justin have kept in touch, and they recently wrote to ask that I help spread the word about their new approach toward completing this important, and no doubt entertaining, work.
Please CLICK HERE to be taken to the KickStarter page where Tyler and Justin hope you will make a small (or not so small?) donation toward this project. Some of the donation amounts will even garner you some cool SWAG!
In case you are not yet familiar with the subject of the documentary, allow me to briefly explain…
Most of our BAS friends and fellow skeptics will instantly recognize the name James Randi. Under the moniker "The Amazing Randi", he enjoyed a long and illustrious career doing all manner of conjuring and escape-artist routines around the world, even breaking some of Harry Houdini's records. Through hard work, and no small amount of natural talent and charm, Randi quickly became well known throughout the world of magic and entertainment, and eventually became a household name.
In the 1970s, Randi began using his fame and respectability as a magician to teach critical thinking and to encourage skepticism. This began with the publication of a book called "The Truth About Uri Geller," in which he expressed his dismay that Geller's claims of having special powers (e.g., bending spoons with his mind) were being taken seriously not only by the public, but also by some scientists. Geller was quickly becoming a "psychic superstar," using tricks that Randi recognized as sleight-of-hand routines and cold reading. Randi publicly challenged Geller to be tested by a magician (namely, himself), as opposed to psychologists and physicists, and eventually began making the same offer (now with a cash award) to others making similar claims of paranormal powers. Fast forward a few decades and many thousands of tests later, and we have come no closer to finding someone with real magical abilities.
On the bright side, we do have the JREF (James Randi Educational Foundation), The Amaz!ng Meeting, a much more cohesive, vibrant, and public skeptic movement, not to mention many wonderful experiences along the way. It's doubtful that this would have been possible were it not for the hard work and dedication of James Randi.
Feel free to post or send the link to this article far and wide, and watch for announcements of the release of "An Honest Liar" in a theater near you!