It appears that a new movie is being launched, "Not Your Typical Bigfoot Movie", though it is not at this writing being shown in the Bay Area. It concerns the efforts of two Ohio men, friends, who are convinced that Bigfoot lives in the wilds of Ohio .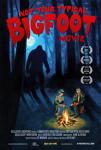 The New York Times says, "the film???s main emphasis is on depicting the everyday lives of regular, financially struggling folk who just happen to have an unusual hobby" and that the evidence of the two men is not "convincing enough to sway the opinions of skeptics, but that isn???t really the aim of this documentary. The Times review is at 
http://www.nytimes.com/2008/10/17/movies/17bigf.html?ref=movies
. The film's website is 
http://www.notyourtypicalbigfootmovie.com/
, and another review of the movie can be found at the Salon site, at 
From the Bay Area's number one news source... 
craigslist
:
Hey guys. Today was amazing. I can't really write too much about it for I have been talking about it all day, and into the night with folks. Some shit is going down. I don't know whether this is preliminary surveilance or I don;t know, The Galactic Federation of Light scoping the scene pre-October 14th, but a good friend of mine and I were at the park today and saw several unidentified flying objects. They looked exactly like the white lights in the day sky over Guadalajara from 2004. They formed a perfect isosceles triangle over Dolores Park, and many appeared afterwards. Later on, I guess about two hours ago, they came back. The same friend I was with earlier in the day called to tell me they were out in the sky again, I ran up to my roof and saw them as well. This time at night. She saw what had to have been a thousand in a fleet over near Potrero Hill. And I saw around 10 near the mission from my roof. They move together, and fast, but they will pause and cease to travel if you stare at them for a long enough time. There was a huge streak unlike that of a shooting star or burning up space debris(I know what that looks like), and they all disappeared. This is no joke, no lie, no delusion. I have seen it along with my friend. On