Are you all "wrapped up" over the stress of the holiday season? If so, it may help to turn to science to make your holiday experience a bit less stressful...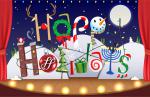 Happy Holidays
In my latest article on James Randi's "Swift" blog, I investigate some helpful tips from social science research that, if applied, can make your days a bit merrier and brighter.
Wondering how to buy that perfect gift for a loved one (or why others always seem to buy you things you don't like)? Hoping to avoid going into debt without disappointing the family? Trying to deal with the stress of holiday cooking using rather limited culinary skills? Then CLICK HERE to read my take on the psychology of the perfect holiday season.