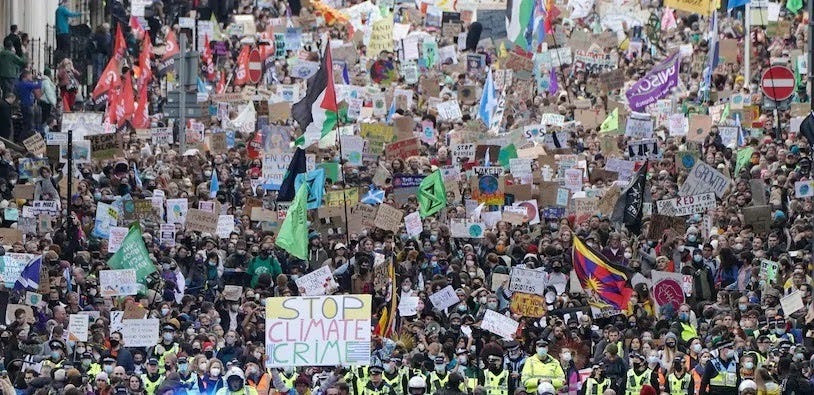 Welcome to another SciSchmooze, dear reader.
COP26 ends this Friday and has been highly successful in eliciting pledges to actively confront Climate Change from the governmental parties attending. (BTW, COP means Conference of Parties). But "pledges" are not policy; Brazil is a good example. However, i believe that pledges are more than 'Greenwashing.' I believe they at least indicate an increasing awareness of the problems and potential solutions. We and the balance of the biosphere need more than that, of course. There are hopeful examples from Berlin, Bogotá, and Bern. Hope that the pandemic would herald a continuing decrease in global CO2 emissions, however, has been proven wrong. In case you missed it, in September editors of 17 medical journals co-published an urgent call for climate action. ¿And why is the Diablo Canyon Nuclear Power Plant – biggest source of clean energy in the state – being shut down? A free live stream discussion on this issue is scheduled for Monday at 12:30 PM.
The data are in: last month's SkeptiCal 2021 registrants and speakers were from 24 different states and from 8 different countries! Those numbers could increase since tickets to view the video recordings are still available at SkeptiCalCon.com. In addition to the seven major presentations (with Q&A) there are: five short presentations, a Tribute to James Randi, four short magic shows by Robert Strong, a Skepardy! contest, and seven short videos highlighting different scientific skepticism organizations and projects. Video chatting simultaneously with folk in Oregon, New York, England, and Australia was a kick!
Although COVID-19 continues to bring death and mourning, the side-stories are frequently engaging. Example: ¿How did wild deer in Iowa get exposed to COVID-19? It's not surprising when Fluffy and Fido get infected from their owners since they breathe the same air. ¿But deer? And then there is the story of how Aaron Rogers (Green Bay Packers quarterback) got "immunized" against COVID. Misinformation about COVID may be endemic, but accurate knowledge about our immune system is reaching anyone who is curious. It's hardly surprising that misinformation is exploited for profit. For example, there are 2,754 stem cell clinics in the U.S. selling unlicensed and unproven stem cell products and treatments while the FDA turns a blind eye – so far.
---
My Picks for the Week:
LIVESTREAM
UC Berkeley & Columbia University: Teaching Robots to Learn – 4pm Monday
Denialism: From Climate Change to COVID-19 – 9am Tuesday
Machineries of Doubt: Climate, Cigarettes, and Confusion – 7:30pm Thursday
IN PERSON
Weekday Morning Hike at Rancho Cañada del Oro – 10am Tuesday, Morgan Hill
NOVA Universe Revealed: Preview screening of "Alien Worlds" – 7pm Tuesday, San Francisco
Afternoon Walk at Pillar Point Bluff – 2:30 Sunday, Pillar Point
---
Now for Out Of This World News:
Enjoy 5 minutes of time-lapse video from the ISS.
Take a 90-second view of activity at Boca Chica, a SpaceX facility.
You won't find little green men on the ISS, but you might find little green Hatch chiles – and space tacos. Sometimes you cannot simply pull over at a gas station to use the facilities. Four folk will be returning from the ISS on Monday and four others will launch to the ISS on Wednesday.
After 31 years in orbit, the Hubble Space Telescope is experiencing yet another glitch. Later this month, NASA will launch a probe that will crash into an asteroid – because making collisions and explosions are what scientists do. Speaking of explosions, apparently there was a doozy of an airburst about 12,000 years ago above Chile's Atacama Desert. This event can now join others in the Younger Dryas Impact Hypothesis.
The James Webb Space Telescope (known as JWST to its friends) has been unpacked after its journey to French Guiana. If you would like a large JWST pin to wear or to gift, send an email to david.almandsmith@gmail.com (only one) before noon Friday with an integer between zero and 1,000. We will then use a random number generator to select the target number and mail the pin to the person who chose the closest number. Dimensions: 3.5 x 4.5 x 0.2 cm
---
"David Copperfield's History of Magic" is a free webinar hosted by the Skeptical Inquirer at 10AM on Thursday.
The movie, "Living Worlds," opened last week at Cal Academy of Sciences.
So much to do! And so much Halloween candy yet to eat!
---
I'm privileged to communicate with you. Stay well,
Dave Almandsmith, Bay Area Skeptics
---
"The fact that scientists are human like everybody means that there is a susceptibility to bias. The difference is the scientist is supposed to have good self-awareness of that bias so that they can check for it. You ask yourself, 'Do I have an urge for this experiment to come out one way or another?' We are trained to invoke, as far as we can see, an analysis of bias. So science may be the most honest enterprise humans have ever constructed."
– Neil DeGrasse Tyson, Astrophysicist
---
Upcoming Events:
Click to see the next two weeks of events in your browser.