(The following is unabashedly stolen from The Center For Inquiry.)
Susan Gerbic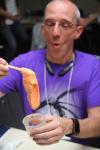 June 27, 2016
The seventh SkeptiCal was held Sunday, May 15, 2016, at the Oakland, CA, Asian Cultural Center. I've attended all seven, each is unique and I always leave feeling that I've had a great experience. This is billed as the Northern California Science and Skepticism Conference, and as usual for this specific event, is heavy on the science. The speakers are varied enough to keep the audience interested as you will soon see. The hosts are the Bay Area Skeptics led by Eugenie Scott and Sacramento Area Skeptics, Frank Mosher.
I attend as many skeptic conferences as I can, and each one has its own "flavor" and style. SkeptiCal differs from others by being a no-frills event, but without you noticing that those frills are missing. Many of the speakers are working scientists talking about their...
During the holiday season, we usually start receiving messages about good cheer,
Belinda Carlislehope for the future, and volunteering to help those less fortunate. Even for those of us who are non-believers, it's a wonderful time of year.
Have you ever wondered what makes people "do good"?
The subject of Prosocial Behavior is something that social psychologists have a studied for many decades. And in the latest episode of the ShelShocked podcast, we talked about the research, told the story of Sempo Sugihara (aka, the Japanese Schindler), and even had an interview with pop star turned philanthropist, Belinda Carlisle, about her charity in Calcutta, India, "The Animal People Alliance."